16 Years After No Child Left Behind: 10 Reasons Accountability Still Matters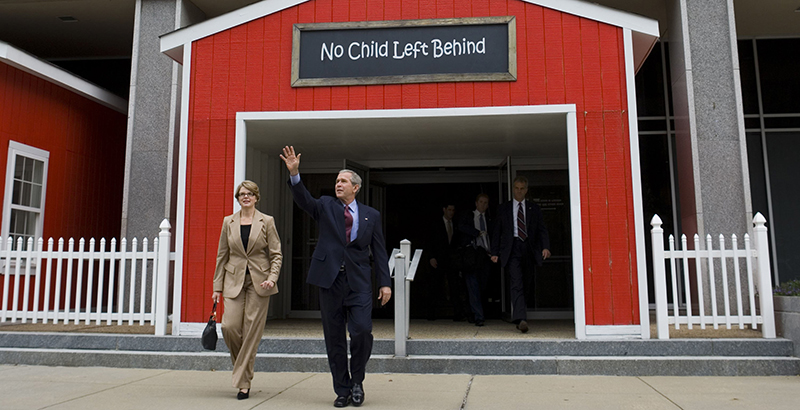 This piece was produced in partnership with the George W. Bush Institute, following The 'A' Word series examining how "accountability" became a "dirty word," and what can and should be done going forward to ensure accountability withstands the test of a bad reputation.
School accountability. In some circles, the term has become a dirty word. But here are 10 reasons that the fundamentals of accountability — raising academic standards, testing students regularly to see if they grasp them, and assigning some consequence to the results — still matter.
These points come from education leaders who participated in interviews this year for The 'A' Word: Accountability — The Dirty Word of Today's School Reform.
Why Accountability Matters
The fundamental responsibility of schools is to kids, and you can't help kids and schools improve if you can't diagnose a problem.
— Margaret Spellings, president of the University of North Carolina and former education secretary for President George W. Bush
Before accountability, schools could hide low-achieving students, especially poor and minority kids.
— John King, president and CEO of the Education Trust and former education secretary for President Barack Obama
Without accountability systems identifying a problem, states and districts don't have to get low-performing schools adequate resources.
Accountability is about helping schools meet goals – and getting support to meet those goals.
— Tom Boasberg, superintendent of Denver Public Schools
Accountability can lead to the restoration or replacement of a school that is not serving its students well over time and shows no signs of improving with the right supports.
— Boasberg
Accountability is a way to drive results for kids who have no voice, especially for students with learning disabilities or whose native language is not English.
— Diane Tavenner, founder and CEO of Summit Public Schools
Students and their families need to know if they are receiving a good education that will put them on the path to the middle class.
— Hanna Skandera, former New Mexico secretary of education
Accountability leads to quality educators being rewarded and low-level teachers leaving the system.
— Kevin Huffman, former Tennessee education commissioner
Accountability keeps a spotlight on rural districts that are often overshadowed by urban districts.
— Felicia Cumings Smith, assistant superintendent of academic services at Jefferson County Public Schools in Kentucky
Who wants to be on a team where no one is accountable?
— Boasberg
William McKenzie is editorial director at the George W. Bush Institute.
---
---
Support The 74's year-end campaign. Make a tax-exempt donation now.