150,000 Stories & Counting: Inside Washington, D.C.'s Campaign to Give Each Kid a New Book Every Month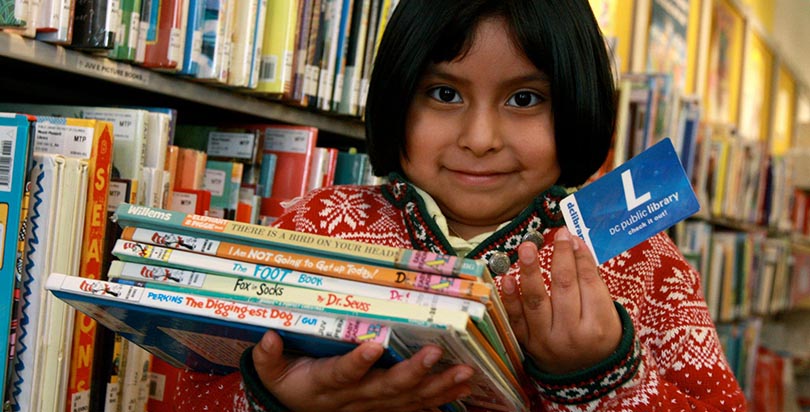 Sometimes, when Andres Herrera's small, 4-year-old fingers stumble as he tries to put on his shoes or zip his jacket, he gets frustrated. That's when his mom, Claudia Herrera, reminds him of something they learned from their bedtime stories.
"I think I can, I think I can," she tells him.
"I think I can, I think I can," he responds.
It's the classic line from The Little Engine That Could, a 1930s children's story about perseverance. Andres received the book through the Washington, D.C., Public Library's Books From Birth program, which gives a free book every month to any child under age 5 living in the District whose parents sign up.
"I appreciate that it is giving books to the community for free. I can't stop repeating that," Herrera said. "Because parents will put their purchasing priority on other things instead of books."
February marked the program's one-year anniversary. Proposed by D.C. Councilmember Charles Allen in an effort to close the word gap for early learners, Books From Birth so far has provided 147,575 books to 22,000 children — half the eligible population.
"I think it's really exceeded expectations," he said. "Getting books into the home has huge potential in terms of helping with early childhood literacy and trying to close that word gap that shows up later on in school."
It was the first bill Allen proposed as a councilmember in 2015, and it received unanimous support from his council colleagues. He was inspired by his own daughter — age 2 at the time — who had a library of nearly 100 books.
Seeing her amply supplied bookshelf made Allen consider the empty shelves in the homes of families across the District who couldn't afford personal libraries.
---
---
Herrera signed up soon after the program launched, when she saw a news article about it on Facebook. She said Andres loves his monthly package, which he greets with, "I got a new book!" And Herrera loves the quality of the stories, which she said teach great lessons, like building communities and appreciating natural resources.
The program also helps with the cost of building a home library, she said. Even though she and Andres love visiting their local public library, owning their favorite books is invaluable. They don't have to worry about returning them, or whether Andres might tear a book while enthusiastically turning the pages.
Since the 1990s, early education researchers have talked about the word gap, a deficit of 30 million words found in 3-year-olds from low-income homes when compared with their wealthier peers. These students start behind in kindergarten, and can stay behind — which is why many programs focus their literacy campaigns on early learners.
Some say free-book programs are an expensive use of taxpayer money that end up subsidizing books for wealthy families, and that more research on their effectiveness is needed. But over the past year, the D.C. Public Library has been targeting low-income neighborhoods with marketing and enrollment campaigns for Books From Birth, as well as coupling free books with other reading programs. And they say it's working: About 60 percent of participants in the book program come from high-needs ZIP codes.
Still, it's not clear exactly how many low-income children are participating in the program. Families are not required to list their income when they sign up, just their ZIP codes, and even within a ZIP code, wealth can vary greatly. For example, one of the library's target ZIP codes is 20009, where the median income is $94,213 and 45 percent of eligible children participate. However, there's a large pocket of people living in poverty in the northeast corner of that ZIP code. The library has targeted them in its outreach.
To reach these communities, the library advertises on buses and Metro trains that run through the neighborhood. Library representatives visit public schools and youth centers, and even set up tables outside grocery stores to register families with young children. They've also partnered with the Department of Health so that when babies are born or children come in for a checkup, parents can sign them up.
But it doesn't matter how many children sign up for free books if they aren't being read to, said New York University Professor of Childhood and Literacy Education Susan Neuman. "It's wonderful for children to have books, but one of the things we're noticing is, we've got to not only provide more books but provide more help for families to read those books."
That's why the D.C. Library has also coupled Books From Birth with its Sing, Talk, and Read program, which hosts workshops at libraries and housing projects to teach parents how to promote literacy with their kids. This can mean reading aloud to them, verbally pointing out items as they walk through grocery stores, or letting young children scribble to practice writing motions. The library will soon launch an office of outreach and inclusion to make its services more available for low-income families.
"Libraries are much more than four walls, a librarian, and a bunch of books on a shelf," said D.C. Public Library Executive Director Richard Reyes-Gavilan. "We're trying to do so much more around becoming integral parts of where people work, live, and play, and [Books From Birth] is a shining example of that."
The library received $600,000 in funding for the program for fiscal year 2017, most of it from the District but also from private donations, including $15,000 from Verizon.
D.C. contracts with Dolly Parton's Imagination Library, which runs a similar program in Tennessee, for selecting the books and sending them to D.C. families. Allen praised the organization for choosing stories with a diversity of characters. The first book children receive when they enter the program is The Little Engine that Could, and the last book is Look Out Kindergarten, Here I Come.
The next step for the program is to start tracking its young graduates through school to measure how it's impacting their achievement, Allen said.
"I want to have every single child enrolled in this," he said. "This is just what we do for kids in D.C., you know, that every child in D.C. is going to have a book coming once a month for the first 5 years of their life."
Get stories like these delivered straight to your inbox. Sign up for The 74 Newsletter