12-Year-Old 'Trash Girl' Puts the Lid on Bullies By Saving the World, One Piece of Litter at a Time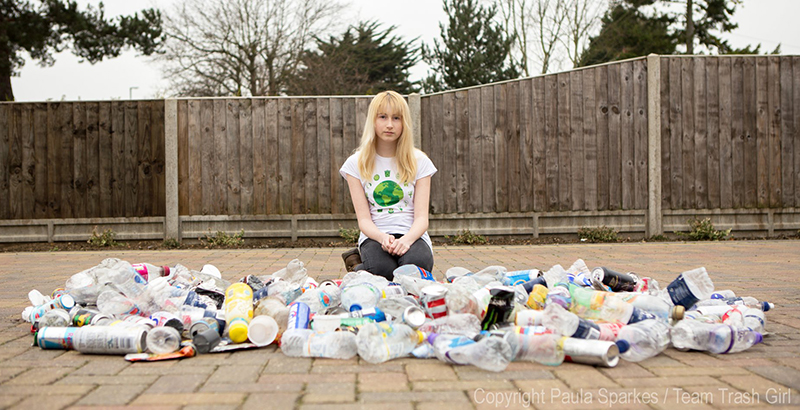 This article is one in a series at The 74 that profiles the heroes, victories, success stories, and random acts of kindness to be found at schools all across America. Read more of our recent inspiring profiles at The74million.org/series/inspiring.
To a 12-year-old on a mission to clean up her little corner of the planet, ridicule, taunts, and attempts at humiliation from bullies were nothing but a bunch of garbage.
"If they are going to call me Trash Girl, they can say it with respect," Nadia Sparkes, a seventh-year student at Hellesdon High School in Norwich, England, quipped to the Eastern Daily Press.
"I'm doing something to protect the world they also live in," Nadia said of the mean kids who mocked and even threw things at her when she started using her bicycle basket to collect the bottles, cans, and other litter that sully the roadside along her 2-mile route home from school.
"It's everyone's job. We are all responsible for keeping this world safe, instead of believing that it's always someone else's job." (Some kids even ordered Nadia to pick up their garbage.)
The gutsy, hardworking tween's commitment has given her green crusade global reach and turned her into an internet icon.
After Nadia's mom encouraged her to "own" the name Trash Girl, Nadia took that advice to the next level, telling the BBC it made her feel "like a superhero." Enter artists from Creative Nation, who released the cartoon Trash Girl Rules, featuring superhero Nadia standing with her bike in front of a pile of refuse. With the tagline "Litter's Hardest Hitter," the production company hopes the character will inspire young people from all over to follow her lead.
Since she started her rubbish-picking regimen in September, Nadia has filled up almost three recycling bins worth of plastic. Environmentalists warn that by 2050, there will be more plastic in the ocean than fish.
Meanwhile, along with a mountain of press, TV appearances, and legions of fans on social media from as far away as New Zealand, many admirers from across the pond are weighing in with Team Trash Girl, Nadia's Facebook group, which was nearly 3,500 members strong and growing as of early this month.
In a Facebook address thanking everyone for their support, Nadia urges followers "to pick up 3 pieces of litter today," and post pictures of the trash they collect.
Her newfound celebrity has opened up a world of opportunities and turned the tide. Not only have the bullies ceased tormenting her, but above all, Nadia no longer feels alone.
"People are being a lot nicer to me," she noted in a BBC video. "There's a group of girls at my school, and usually they would ignore me, but now they're actually paying attention to me."
Get stories like these delivered straight to your inbox. Sign up for The 74 Newsletter