12-Year-Old Scuba Diver & Activist Purges Plastic Straws From Her California School District — and She's Just Getting Her Feet Wet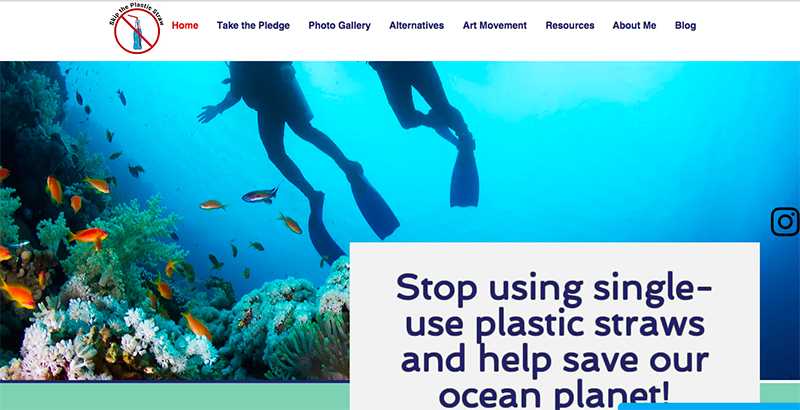 This article is one in a series at The 74 that profiles the heroes, victories, success stories, and random acts of kindness found at schools all across America. Read more of our recent inspiring profiles at The74Million.org/series/inspiring.
Starting this school year, there will no longer be plastic straws at lunch at any of the 32 campuses in Southern California's Newport-Mesa Unified School District — thanks to a campaign by 12-year-old Chloe Mei Espinosa that was spurred by her love of the sea and its creatures.
"It's important because of the fish and all the animals we have in the ocean now, and it would be nice for kids in the future to be able to see them and all the colors and unique features," Chloe told the Los Angeles Times in May.
The young scuba diver took her first plunge with an oxygen tank in 2014 at Kids Sea Camp in Bonaire, an island north of Venezuela. Since then, she's communed with eels, stingrays, and other underwater critters on breathtaking coral reefs, including in Hawaii and the Cayman Islands.
So when Chloe watched a harrowing video of marine researchers removing a plastic straw lodged in a sea turtle's nose, she knew she had to act.
From there, the topic for her so-called passion project, an assignment for Newport Coast Elementary School sixth-graders that requires research — and action — became a no-brainer.
Armed with determination and a storehouse of empathy for the creatures of the underwater habitats that she loves to explore, Chloe designed and launched skiptheplasticstraw.com. The comprehensive website highlights the perils that plastic straws pose to Earth's oceans, and it features information and resources on alternatives including glass, metal, and bamboo varieties.
Visitors to the site are urged to "Take the Pledge!" to give up using plastic straws. By last week, more than 650 people had agreed to kick their plastic-straw habit, exceeding Chloe's initial goal of 500.
Once the website was up and running, Chloe educated and lobbied her fellow students — noting that Americans use 500 million plastic straws every day — and then petitioned the district's nutrition services director by email. The schools took up her cause enthusiastically, agreeing to change to wooden coffee stirrers and offer paper straws on request.
Chloe's success earned her a spot at the New Orleans-based Ocean Heroes Bootcamp in June, where she and a few hundred other "pint-sized environmentalists," as The Sun of San Bernardino County called them, brainstormed and workshopped their planet-saving projects.
"It was so inspiring to see what everybody was working on," Chloe Mei told The Sun. "I learned how to improve my campaign and improve my social media and how to make the perfect presentation."
Chloe's coup in her own school system is just the first of many battles she plans to wage and win in the worldwide assault on plastic items that are polluting our waters.
As she starts seventh grade at Corona del Mar Middle School next month, Chloe plans to step up her game with neighboring districts, as well as local restaurants, to get them to jump on the skip-the-plastic-straw bandwagon.
As she told the Los Angeles Times, when she heard about her school district's decision, "I felt like the ocean was giving me a huge hug, saying, 'Thank you, thank you, thank you for helping me.'"
Get stories like these delivered straight to your inbox. Sign up for The 74 Newsletter