12 Surprising Quotes From New York City Schools Chief Richard Carranza, From Gifted & Talented to His Union Boss Best Buddy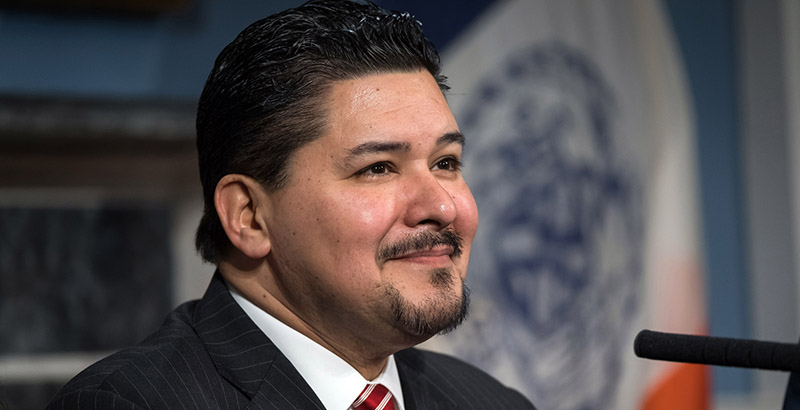 Six months into his tenure leading the nation's largest school district, New York City Schools Chancellor Richard Carranza sat down Monday morning for a colorful question-and-answer session hosted by the Educational Leadership Program at New York University.
The event was moderated by Clinical Professor Lisette Nieves, whose questions included some she had received from students around the city. The 55-minute discussion was wide-ranging, starting from Carranza's personal background and leading to the issues that have defined his chancellorship to date, among them school segregation, access, and admission to the city's specialized high schools.
Here are Carranza's top 12 quotes from the event:
1. On United Federation of Teachers President Michael Mulgrew — whom he called "my brother from another mother" — and the new teachers contract:
"There were many times he could have scuttled this, many times he could have led his organization in a different way, and instead he sat at the table, teacher to teacher, and we talked about, 'Remember when we were in the classroom? What would have helped us be better?' And there you go."
2. On what students are learning in school:
"The curriculum has to be as contemporary as our students. I give students a lot of credit for behaving as well as they do, because some of the stuff we do is just boring, and the way we teach it is boring."
3. On gifted-and-talented programs:
"Are they really measuring giftedness and talentedness, or are they really measuring, when you're measuring kids at 4 years old, the privilege of the parent?"
4. On New York City's specialized high schools:
They are "the epicenter of privilege" for people like Supreme Court justices — "the ones who don't like beer."
5. On public education:
"I'm an unapologetic, unvarnished, absolutely vociferous defender of traditional public schools. They are the cornerstone of our democracy, and don't let anyone fool you: As bad as they say they are, they're not that bad."
6. On growing up as an English learner:
"I still remember my kindergarten teacher. To me, she was the most beautiful but biggest woman I had ever seen. This beautiful black woman. I still remember to this day, when I'm in department stores and I smell that perfume that she used to wear — because I couldn't speak English, so I got lots of hugs. Lots of hugs. Now that I've reflected and now that I know what I know and I've studied pedagogy, I understand that she was creating a well-rounded social-emotional learning environment for me to be able to learn."
7. On social-emotional learning:
"The ability of a teacher in a public school system to create an environment where students will come into that classroom and feel supported, will feel validated, while we're also going to help you develop your academic sense, is critically important."
8. On Aviation High School, which he cited as an example of a school that is preparing students for the workforce:
"And by the way, all the young ladies that were in this program — because, you know, there's this myth of who goes into this kind of careers — all of them had the most beautifully manicured nails. And I know a thing about manicured nails because I have a wife and daughters, right? And they were just talking shop like everyone else."
9. On critics — people he called "the chattering class" who "don't know squat" about education:
"Most of them who have never actually led a school to better outcomes as an administrator or a principal, most of them who have never led anything except their car through the drive-thru, and yet they want to opine about what's good and what's bad about education."
10. On visiting schools:
"One chancellor in the field is worth three in the seat."
11. On where he would have lived if he grew up in New York:
"I've got much love for the Bronx."
12. On educator preparation programs:
"We're training teachers for a generation that's passed."
Get stories like these delivered straight to your inbox. Sign up for The 74 Newsletter