10-Year-Old Flint, Michigan, Girl Took 800 High-Needs Kids to See Black Panther. Now, She's Their Hero, Too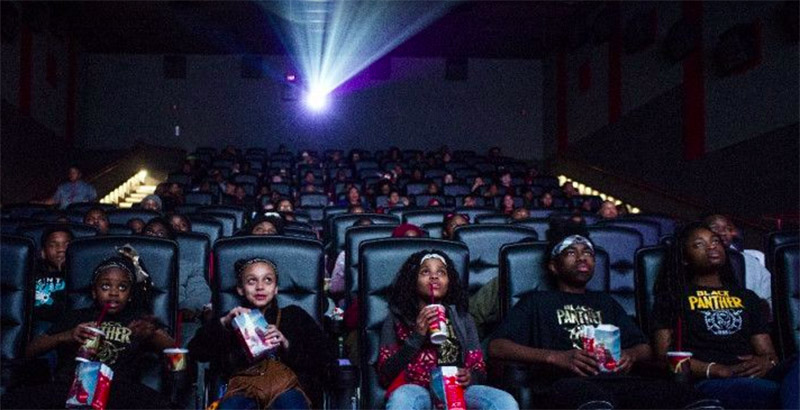 This article is one in a series at The 74 that profiles the heroes, victories, success stories, and random acts of kindness to be found at schools all across America. Read more of our recent inspiring profiles at The74million.org/series/inspiring.
Little Miss Flint has done it again.
Ten-year-old Amariyanna "Mari" Copeny, the onetime pageant winner who enthralled the country in 2016 by inspiring President Barack Obama to visit her hometown of Flint, Michigan, during the city's ongoing water crisis, took hundreds of kids to the movies for a free screening of the hottest movie in the nation right now: Black Panther.
With the help of her mom and cousin, Mari raised $16,000 through a GoFundMe campaign in coordination with the #BlackPantherChallenge.
"Kids need to see themselves as superheroes," Mari told The Washington Post. "Black kids are seen as victims — and we're not." Living in a city dependent on bottled water for drinking, cooking, and brushing teeth for four years because of contaminated tap water has exacerbated the stigma.
But if there's one kid who's well on her way to becoming a superhero, it's Mari.
After the dynamic do-gooder rented out the 150-seat Rave Cinema in Flint Township for an opening-week screening, Team Mari had enough money left over to buy 650 more tickets, distributed on gift cards, as well as Black Panther merchandise.
They worked with Flint's boys and girls clubs, Big Brothers Big Sisters, churches, and homeless shelters to find just the right kids to invite — namely, those who would never have gotten to see the movie otherwise. Attendees also received a letter encouraging them to follow their dreams, and a comic book featuring a person of color as the hero.
Mari relished giving Flint kids the chance to "see themselves represented on the big screen as royalty and heroes," the MLive website reported. "Black Panther teaches us that we can be whoever you want to be."
Two years ago, Mari wrote to Obama, asking him to meet with her and other Flint citizens when they came to Washington to testify before Congress about their city's water catastrophe. They heard nothing that day, but back at home, she got a call from the White House requesting an in-person audience.

Not even a tween yet, the social networking activist — whose biggest fan is Bernie Sanders — juggles myriad crusades. Just a few examples: In 2017, Mari raised more than $10,000 online in two weeks to give more than 1,000 backpacks stuffed with school supplies to Flint students; another free movie screening is in the works — for A Wrinkle in Time — along with the collection of 1,000 copies of the book for kids; and she's raising funds for a trip to Washington for the March for Our Lives later this month.
In the first week and a half of #DearFlintKids, which she launched on Twitter, Mari received almost 2,000 encouraging letters for youngsters in her post office box.
"The letters are sending a positive message," Mari's mother, Loui "LuLu" Brezzell, said in a Washington Post interview. "So Flint kids know people haven't forgotten about them."
Support The 74's year-end campaign. Make a tax-exempt donation now.