1 in 4 NYC HS Students Can't Swim. 16-Year-Old Is Changing That With Free Lifesaving Lessons for Her Schoolmates — & Wants to Teach the Whole City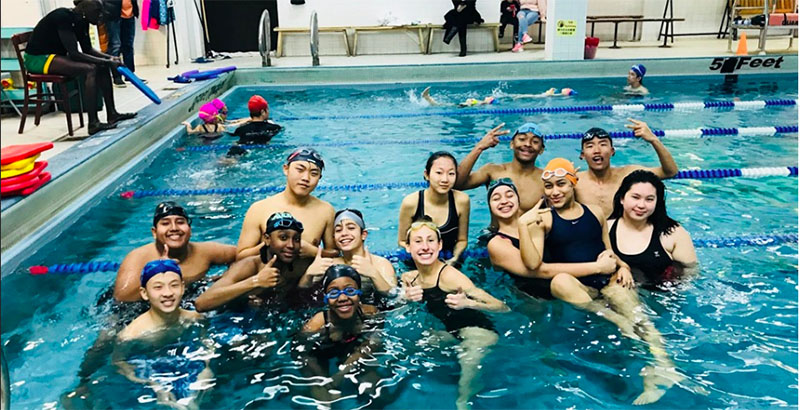 This article is one in a series at The 74 that profiles the heroes, victories, success stories and random acts of kindness found at schools all across America. Read more of our recent inspiring profiles at The74Million.org/series/inspiring.
When her classmates first started bugging her to teach them to swim, Sylvie Goldner thought they were teasing. After all, one's identity in high school is often boiled down to a single attribute – the smart one, the funny one, the swimmer.
But her New York City classmates were not joking, and Sylvie, 16, learned that many of them not only couldn't swim but had never even been in the water, she told Today.com.
"I just assumed everyone knew how to swim," said Sylvie, a competitive swimmer who began taking lessons in second grade.
She was mistaken. Research from the USA Swimming Foundation shows that 64 percent of African-American children, 45 percent of Hispanic children and 40 percent of white children have little to no swimming ability. Those whose parents don't swim have only a 19 percent chance of developing this lifesaving skill.
In New York City, fewer than 1 in 4 high schoolers know how to swim.
Sylvie, a certified lifeguard, set out to change that by offering free swimming lessons to her fellow students.
Sylvie attends Bard High School Early College, a highly competitive public school in Manhattan that boasts a diverse student body. As the name implies, it is affiliated with Bard College and enables students to complete two years of college while still in high school. Students can earn up to 64 college credits and graduate with both a high school diploma and an associate's degree.
"I go to a super-diverse public school, and a lot of the kids, their parents are immigrants and they've never learned how to swim, so they never teach their kids how to swim, and this fear is passed down," Sylvie told Today. "There's water surrounding us everywhere, and to not have water safety skills is ridiculous, and it's a real hazard."
In the spring, Sylvie got a $1,000 grant from her school, rented lane time at a nearby pool and signed up her first 10 students for free lessons, the Tribeca Citizen reported. The class, called "First Strokes," was for high school kids only.
"No kid my age wants to take lessons next to 3- and 4-year-olds," Sylvie told the Tribeca Citizen. "This creates a community of teenagers who are learning together."
By the end of the school year, students who had been afraid of the water could swim the length of the pool.
Buoyed by that success, Sylvie now hopes to expand First Strokes and offer free lessons to all New York City high school students. She has launched a GoFundMe page to raise money for more lane time, swim goggles and caps to serve 100 students a week.
"To spread the joy of the pool to all, we are aiming to raise $50,000," Sylvie wrote on the fundraising page.
Her timing may be right. In August, The New York Times Editorial Board called upon New York City to partner with businesses and nonprofits to offer free swimming lessons for all residents.
Get stories like these delivered straight to your inbox. Sign up for The 74 Newsletter