Are Student Athlete Protests Fair Game Under 1st Amendment, Or Can Schools Cry Foul? It's 'Murky,' Expert Says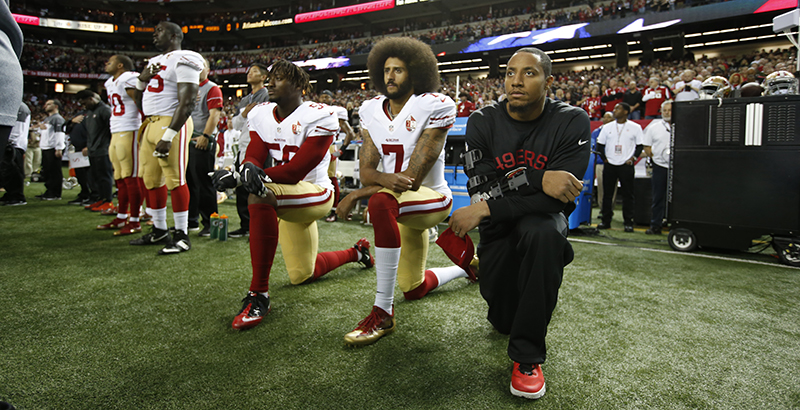 It's a lovely fall Friday, and everyone knows what that means: high school football. But for anyone who plans to attend or participate in a high school sporting event this weekend, prepare for a ruckus. Not just everyday mayhem, like teens charging each other headfirst; expect the national anthem to become the big spectacle.
What began as a silent protest by National Football League quarterback Colin Kaepernick — kneeling rather than standing during "The Star-Spangled Banner," in response to police brutality against blacks — has become a full-blown national debate, which has quickly made its way to high school football fields, gymnasiums, classrooms, and even school board meetings across the country. The debate intensified last week after President Trump said athletes who kneel during the anthem should be fired, calling such a protester a "son of a bitch."
As protests intensify in the professional realm, school districts across the country are bracing for even greater participation among high school athletes.
On Thursday, a Louisiana high school principal's letter quickly went viral after he warned student athletes they could be punished — up to being removed from their team — for protesting during the playing of the national anthem. As districts grapple with how to respond, some backing student protests and others clamping down, the letter raises an important question: Can schools punish student athletes who kneel during the national anthem?
In response to the letter from Parkway High School Principal Waylon Bates, which said students must "stand in a respectful manner throughout the National Anthem," the American Civil Liberties Union of Louisiana warned the district that such a demand violated students' First Amendment rights.
Certainly, such a reaction could open districts up to legal liability, particularly if an athlete relies on sports as a path to college, said Frank LoMonte, director of the Brechner Center for Freedom of Information at the University of Florida. A tally by the National Coalition Against Censorship lists more than a dozen incidents since last year when public schools punished students for kneeling.
But for a student, winning a legal challenge under the First Amendment, he said, may not be an easy goal.
"Outside of a school, the law of the First Amendment would be absolutely crystal-clear, and unfortunately, it's murky in the school setting," LoMonte said. "The problem is, there have been judges who are willing to look the other way on the First Amendment inside a school. Can a school legally deny you membership on a football team because they don't like your speech? I doubt it, but I think there are some judges who would disagree with me."
If the First Amendment protects every American's right to free speech and to protest, why are a student's rights any different? After all, a 1943 Supreme Court ruling in West Virginia State Board of Education v. Barnette found that schools cannot compel students to stand and recite the Pledge of Allegiance.
"Nobody gets to decide how we express our patriotism," student speech activist Mary Beth Tinker told The 74 on Friday. "Nobody gets to force us to act it out in a certain way, our feelings about our country and its policies. That's part of what our country is about."
Tinker should know: She was the lead plaintiff in the landmark 1969 Supreme Court decision Tinker v. Des Moines Independent Community School District. During the Vietnam War, Tinker was suspended for wearing a black armband to school to protest the conflict and promote peace. In its decision, the Supreme Court set a legal standard that children do not "shed their constitutional rights to freedom of speech or expression at the schoolhouse gate," so long as their words or actions do not substantially disrupt the learning environment.
Courts still use the Tinker standard to decide whether student speech at school — and sometimes even at home — is protected by the Constitution.
"When we wore black armbands, of course people thought we were being unpatriotic and they threw red paint at our house and a lady threatened to kill me and they sent us hate mail with a hammer and sickle on it," Tinker said. "But as I explain to kids often, people misunderstand the whole idea about patriotism, because we felt we were being patriotic toward our Constitution, not toward the specific policies of any government official."
LoMonte said national anthem protests among football players are a little more complicated, however, because of the 1988 Supreme Court decision in Hazelwood School District v. Kuhlmeier. In that case, the justices ruled that a principal could censor yearbook stories about divorce and teen pregnancy because students' articles were sponsored by the school. In 2010, the Fifth U.S. Circuit Court of Appeals relied on Hazelwood to rule that a high school cheerleader must cheer for everyone on the basketball team, including a player she accused of rape. As a member of the cheerleading squad, the judge ruled, the young woman was engaging in school-sponsored speech and did not have individual free-speech protections.
Even if football players don't engage in speech the same way as cheerleaders, do they have a right to play football? In 2007, the Sixth U.S. Circuit Court of Appeals ruled that a high school coach could remove football players from the team for circulating a petition to have the coach fired. By sowing disharmony on the team and preventing the coach from doing his job, the judge ruled, the athletes' speech was not protected by the First Amendment.
"I think a lot of schools and their lawyers have taken that as a license to say, 'We can take away athletic participation from you for any reason, even to punish you for speech,'" LoMonte said. "I don't read the case that way, but I think a lot of schools have taken it as an invitation to say that you have no right to be a football player, and so we can take that right away from you at any time for any reason."
Regardless of which team school administrators join in the national conversation — the team that encourages student political discourse or the one that tries to thwart it — LoMonte said educators should see the debate as a valuable learning opportunity.
"I think the answer is to be respectfully tolerant in a difference in political opinions and to use that demonstration as the opening for bigger conversations," he said. "If students are kneeling to display their dissatisfaction with conditions for people of color during school events, then that seems like a very important topic for a civics discussion."
Support The 74's year-end campaign. Make a tax-exempt donation now.