An Election Day Lesson in How Little (and How Much) Has Changed in the Politics of Public Schools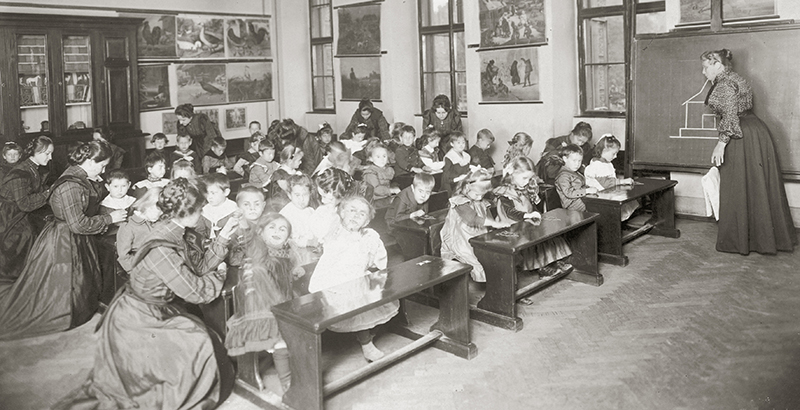 It gets better. Two things are clear when you read a history of American education. Reformers have been trying to solve many of the same problems with the same solutions for more than a century. And while we don't seem to have learned enough from generations of failed policy, schools reflect values and values have improved.
As an Election Day civics exercise, check out these vignettes showing what current education issues looked like in the early days of public schools.
The source is David Tyack's The One Best System (1973), an influential history of urban education with many excellent and telling details.
Local control (or beating up the new teacher)
There was no bureaucracy regulating enrollment, schedules, classroom behavior, and teaching in the one-room schoolhouses where American children learned during the 19th century; the classroom could range from babies to men in their twenties, depending on community norms and needs. The school helped integrate (though never racially) towns and rural areas: "In one-room schools all over the nation ministers met their flocks, politicians caucused with the faithful, families gathered for Christmas parties and hoe-downs, the Grange held its baked-bean suppers, Lyceum lecturers spoke, itinerants introduced the wonders of the lantern-slide and the crank-up phonograph, and neighbors gathered to hear spelling bees and declamations."
But schools could also divide. Families knew each other well; if they didn't get along, the school was a proxy battleground for local power between "warring cliques" — which sometimes splintered off into new districts. Tyack quotes a New England observer, who points to the real and symbolic (and enduring) importance of the schoolhouse: "To settle the question of where one of the little frame schoolhouses should stand has been known to require ten district meetings scattered over a period of two years." The meetings attracted "men from the mountains who never voted in presidential elections." In one Iowa district, "dissident farmers" moved the schoolhouse itself one night to "their preferred site" a mile away.
Communities might also split over selecting a teacher and how the teacher taught — responsibilities they exercised even if they didn't have the authority under state law. An Oregon teacher was forbidden by local families from teaching grammar; another instructed students to write from the bottom of the page up. When another teacher complained of the mess left from a community meeting, he was informed that the school had shuffled through three teachers the previous year. A teacher's rivals might work to undermine him in the community, and in some areas local custom allowed older boys to beat up a new teacher, or try — "while the patrons waited with ghoulish glee."
Class size (huge)/culture (like a cornfield)
The rapid growth of cities forced municipal leaders to transform schoolhouses into institutions that could accommodate far more students. How to make the change wasn't self-evident. Chicago at the middle of the 19th century was "a lusty city of mud streets and sidewalks plastered over with planks," Tyack says, and quotes the city's first superintendent: "the schools were chaotic, differing 'from isolated, primitive, rural schools only in the huge numbers of children each teacher struggled with.' "
In 1850, the city had 13,500 children of school age, of whom 1,919 were enrolled in schools. The city employed 21 teachers, resulting in a 91:1 teacher-student ratio.
Because the schools met in abandoned warehouses and rented stores, the city council approved construction of a new building — despite opposition from the mayor, who said it would never be filled and should instead "be converted into a factory or an insane asylum for those responsible" for its construction.
He was wrong: By the second year, the school had 843 students, along with three teachers.
Tyack recounts a Baltimore school board committee tour of the schools in several Eastern cities. It was especially impressed by a New York City school that enrolled roughly 2,000 students who moved in and out of a large hall between classes "regulated by pianos … All the changes were performed in marches, some in the usual step, other in the double quick time of the military development. Calisthenics were performed with great precision."
The next year, another observer in New York City described a vast classroom where "hundreds of perfectly silent children, eyes fixed straight ahead, [were] sitting 'as regular as rows of machine-planted corn.' When the Directress came into the assembly at a given signal, 'every face turned instantly, as though on a pivot,' to greet [her]…"
Political interests (or how janitors made some on the side)
American districts became better organized early in the last century, but struggles for authority between school boards and superintendents remained commonplace, and boundaries between education departments and other municipal power-holders, especially ward leaders, were rarely clear.
In turn-of-the-century Philadelphia, a journalist found that the jurisdictions of hundreds of administrators overlapped, Tyack reports. Each of the city's 42 wards had its own school board, with a total of 504 members making decisions about schools along with 42 central board members and the superintendent and his staff. The ward school boards were typically platforms for higher office and "part of a large patronage apparatus." Teachers frequently paid members a commission when they were hired; the ward bosses, who typically approved their appointments, were kept informed through intelligence networks in the school.
"Janitors were often the key spies," Tyack says.
Given radical changes in urban demographics during the early decades of the 20th century, the wards were typically in a position to mediate "between their constituents and the official school system … the machine often lubricated points of greatest social friction." In New York, Boss Tweed, one of the most famous of ward leaders — New York City's education headquarters is named for him — went beyond giving contracts and jobs: He "allowed" teachers to omit Protestant rituals in schools in Catholic neighborhoods, pushed instruction in the native language of new arrivals, and removed textbooks with anti-immigrant language.
From on high, however, among the visionaries working to design a new, better-managed system, the problems remained much as they are today: the destructive influence of patronage and, though they meant it far less expansively than we do now, the need to provide poor children with a good education.
Support The 74's year-end campaign. Make a tax-exempt donation now.