Amid the Pandemic, Louisiana Educators Are Fighting Through the Fallout From a Hurricane. Lake Charles's Devastation, By the Numbers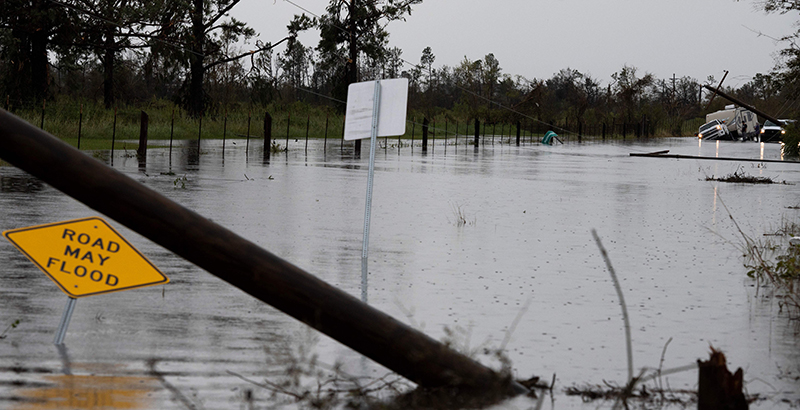 Even as Hurricane Sally made its excruciatingly slow way up the Gulf Coast, Louisiana lawmakers met to consider the damage inflicted by Hurricane Laura — the strongest storm to come ashore in the United States since 1856— on schools in and around the city of Lake Charles.
The 33,000-student district had spent the summer purchasing technology to hand out to families who chose to return to classes virtually, preparing school buildings for a resumption of in-person learning and stockpiling food for continued meal deliveries. But on Aug. 24, which was to have been the first day back, Laura slammed ashore, forcing the district to announce an indefinite closure. All those preparations washed away.
"There's nothing that smells like a mildewed building and rotting food that's been sitting on the ground for 10 days," Karl Bruchhaus, superintendent of Calcasieu Parish Public Schools, which includes Lake Charles, told members of the state Senate Education Committee. Bruchhaus detailed the devastation with a series of astounding numbers:
74 of 76 schools damaged
15 schools without roofs
124 of 350 school buses operable
0 schools with internet
This is the LaGrange Auditorium, the stage of outstanding musical performances. A different light is shining on stage following #HurricaneLaura, but we know the true stage lights will be turned on again soon, and we can't wait for that performance. #CPSB #RebuildingFoundations pic.twitter.com/QRAaQKMQ0b

— CPSB Schools (@CPSBschools) September 5, 2020
48 percent of families still sheltered outside the parish
12 percent in the parish but unable to return home
95 percent of the parish without power
97 percent of 11,000 families surveyed want to return to school as soon as possible
22 percent planning on distance learning only — before Laura wiped out internet at home
72 percent of 2,351 teachers surveyed ready to teach online
55 percent of teachers with extensive damage to their homes
64 percent of teachers brought their laptops home when schools closed
In Louisiana, we're a resilient people. We are showing it again. #HurricaneLaura #laed ?? pic.twitter.com/BtTUb8xf8m

— Cade Brumley (@cadebrumley) September 2, 2020
$300 million estimated cost of rebuilding schools
100 hygienists assessing mildew and other health threats
$600,000 worth of food for students saved in freezers at the district's central facility, one of a few with a generator
As individual schools are repaired and ready for students, they will be reopened. https://t.co/5ea6i9BTTY

— Crystal Stevenson (@CrystalAmPress) September 8, 2020
5 to 7: number of schools Bruchhaus hopes to reopen each week beginning the week of Sept. 28.
Get stories like these delivered straight to your inbox. Sign up for The 74 Newsletter