Amid Post-Parkland Calls for School-Based Police, $500,000 Settlement Gives Critics Reason for Caution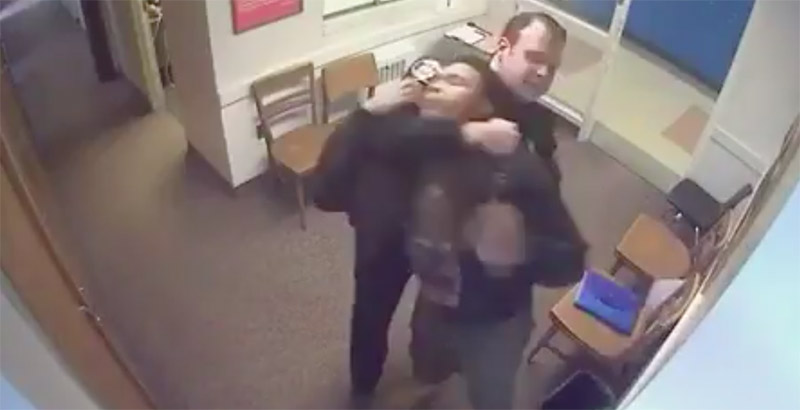 Five youth who described a culture of abuse at a suburban Pittsburgh school system have reached a half-million-dollar settlement with the district and several administrators, security officers, and school-based police they say perpetrated the violence against them.
The alleged assaults at Woodland Hills High School — circulated in online videos that showed students being choked, punched, and tased — put a national spotlight on the employment of school police and their role in student discipline. Efforts to increase the presence of such police, often called school resource officers, increased this year in the aftermath of mass school shootings in Parkland, Florida, and Santa Fe, Texas. But civil rights leaders say the outcome at Woodland Hills should prompt educators to reconsider.
For years, the Woodland Hills School District had frequently called on school police to handle basic discipline, including minor infractions like cursing. Now, that's changing, said new superintendent James Harris, hired this year to lead the district amid community concern over school policing.
"We don't need police officers patrolling the hallways of schools — that's for school administrators to do," Harris told The 74. "Police have a much bigger role in the community, and it's not arresting 14-year-olds for disorderly conduct in a hallway."
Last year, five current and former students filed a lawsuit in federal district court against the district, three school administrators, two police officers who were stationed at the school, and a security company that contracted with the district. The accusations included assault, intimidation, and filing false criminal charges to justify excessive use of force. The students also alleged that administrators failed to prevent the misconduct. Each of the plaintiffs is black, and several are disabled.
An attorney representing the students said they settled for $530,000, with no admission of guilt from the district. Churchill Borough Solicitor Gavin Robb couldn't be immediately reached for comment.
Officials assaulted children in areas they believed were hidden from surveillance cameras, said Todd Hollis, a Pittsburgh-based personal injury and civil rights attorney representing the students. Before the students could complain, he said, police charged them with crimes. "The charge itself would insulate the administration from wrongdoing," he said, "or at least they believed the charge would insulate the administration from wrongdoing."
The lawsuit laid out each of the alleged incidents in grim detail. In 2015, a school resource officer allegedly placed a 15-year-old student in a chokehold, dragged him down a hallway by his neck, and slammed his face into the floor. As a principal held the student to the floor, the officer shocked him with a Taser at least three times, the suit said. In 2016, the principal purportedly threatened to punch a 14-year-old student in the face and told the student, "If we went to court, it's your word versus mine, and mine wins every time."
In one 2015 altercation, school resource officers allegedly handcuffed a 16-year-old girl and physically assaulted her. Then, in 2016, private security staff restrained a 13-year-old girl, threw her to the floor, and punched her in the head, according to court papers. In April 2017, an officer allegedly threw a 14-year-old into a wall, threw him onto the ground, and punched him in the face.
School surveillance cameras captured several of the alleged incidents, as well as other interactions with students who were not plaintiffs in the lawsuit. Hollis publicly released the video footage and an audio clip a student took purportedly showing the principal threatening to punch him. Hollis said the clip empowered students to come forward with their own stories.
Officer Steve Shaulis, chokes a 14 year old student for no reason and arrests him – for resisting arresting. pic.twitter.com/yJeGWIeRDq

— zellie (@zellieimani) May 3, 2017
The school leaders and the Churchill Borough Police Department officers involved in the incidents no longer work in the school, Harris said, adding that the situation prompted reforms in the district, which educates roughly 4,000 students.
He said the district is now implementing a restorative justice approach to discipline, a strategy that relies on mediation and avoids punishments like suspensions or arrests. The police have a more limited role, he said. For the first time, school resource officers received training alongside teachers at the start of the school year. So far this school year, he said, there hasn't been an incident requiring resource officer intervention.
"In years past, the police officers patrolled the hallways and dealt out discipline. Well, now it's back to the principal and his staff to do that," he said. "If a student says something that's inappropriate, they get sent to the principal's office. They're not reporting to a judge [and] paying a fine, which was occurring in the past."
Post-Parkland Push for Police
The court settlement comes amid a push for more school resource officers following school shootings this year in Parkland and Santa Fe. The role a former school resource officer in Parkland played in failing to confront the gunman has not curbed enthusiasm for hiring more school-based police and other efforts to "harden" campuses.
The Federal Commission on School Safety, which President Donald Trump created after the Parkland shooting, has discussed the role of school resource officers in stopping active shooters. Earlier this month, Trump praised a school police officer who confronted an armed man at an Illinois high school and likely helped avert tragedy. In Florida, a post-Parkland law requires that a school resource officer or armed guard be stationed at every school statewide — a mandate schools struggled to meet as classes kicked off this fall.
Harris, the Woodland Hills superintendent, said he does support "a small police presence" to secure the campus should it come under attack. But he said school police should build relationships with educators and students rather than roaming the halls in search of misbehavior. Hollis, the attorney representing the five plaintiffs, offered a similar sentiment, noting that school officials should refrain from calling police in situations that do not present imminent danger.
"There are outside threats to the school, and to the extent that those outside threats become present in your school, I certainly would want a police officer there," Hollis said. "I do have a problem with untrained police officers who are given a free rein to use their powers in ways that were never intended."
As The 74 explored in 2015, most states — including Pennsylvania — do not have laws requiring school resource officers to receive training on how to work with children.
Some civil rights groups, however, decry the use of sworn police in schools, fearful of situations like the one that unfolded at Woodland Hills. The groups include the Advancement Project, which argues in a recent report that police should be removed from schools and called to campus only if necessary. School shootings have long driven decisions to increase police presence in schools, but the Advancement Project argues that these efforts have not improved school safety for students of color.
Harold Jordan, a senior policy advocate at the American Civil Liberties Union of Pennsylvania, takes a similar stance. Although he said he isn't an "absolutist" and recognizes the necessity of police in some circumstances, he said the push to increase full-time school resource officers has gone too far. Jordan recently met with school leaders in Woodland Hills and provided advice on how the district can reform its school resource officer program.
Jordan challenged the belief that increasing school-based police will deter school shootings, saying that proliferation will instead contribute to student arrests for infractions that school officials could have handled themselves, disproportionately affecting students of color.
But the settlement in suburban Pennsylvania offers a new message to school administrators, Jordan said: "It says to school districts they really do have to take responsibility for the behavior of security staff and their own staff in schools and the way they interact with young people."
Get stories like these delivered straight to your inbox. Sign up for The 74 Newsletter