America Remembers Linda Brown, 75, the Third-Grader Who Became The Face of 'Brown v. Board of Education' And Overturned School Segregation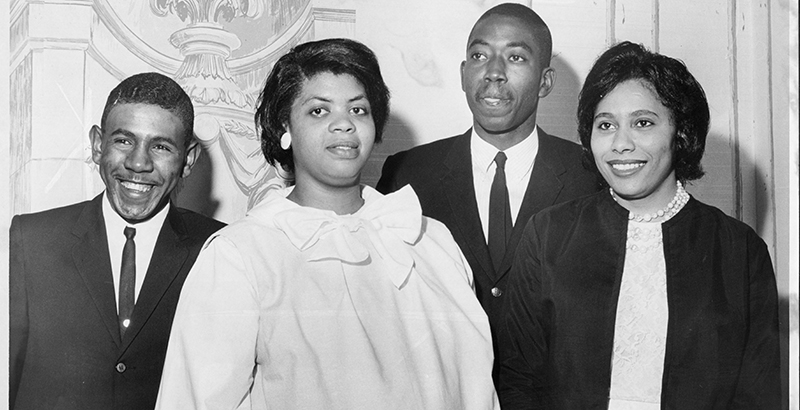 It was a short walk home, but Linda Brown remembered the tension as her father gripped her hand after a meeting with the principal of an all-white grade school in Topeka, Kansas. The principal wouldn't let Oliver Brown enroll his daughter, Linda, in the school, even though it was closer to her home. Instead, she had to take a lengthy route every day along train tracks and across a busy road to attend a black school.
That tense walk home was the beginning of the historic 1954 Brown v. Board of Education U.S. Supreme Court case that unanimously overturned the "separate but equal" doctrine of Plessy v. Ferguson. Oliver Brown became one of a dozen plaintiffs in several states to challenge school segregation.
Linda Brown died in her hometown of Topeka on Sunday, at age 75. An education consultant and public speaker, she was one of many plaintiffs to reopen the original Brown case in 1979 to argue that Topeka's schools were still not fully integrated. "The Brown case 'might have been a little flame," Linda Brown once said, according to Education Week. "'But it served to set off a mighty flame.'"
As a teenager, she wondered if she'd see her court case in a history textbook. In fact, her name has been "etched in history," as EdWeek wrote, heralding Brown's permanent impact on school inclusion, the civil rights movement, and what it really means to be a U.S. citizen. Here are some reactions from civil rights leaders, journalists, and education commentators.
"The decision upended decades' worth of educational practice, in the South and elsewhere, and its ramifications are still being felt," The Times wrote, adding that Linda Brown "came to symbolize one of the most transformative court proceedings in American history."
Linda Brown's "name is etched in history," Education Week wrote in a piece quoting her reflections on the case. "The Brown case 'might have been a little flame,' (Linda Brown) said. 'But it served to set off a mighty flame.'"
"The case went before the U.S. District Court in Kansas, which agreed that public school segregation had a 'detrimental effect upon the colored children' and contributed to 'a sense of inferiority,' but still upheld the separate but equal doctrine."
"While her name will forever be a part of American civil rights history, her contributions to the community after the case are part of her legacy, too, longtime friend Carolyn Campbell said."
"Ms. Brown, a third-grader who simply wanted to avoid a long walk and bus ride and join her white friends in class, went on to become the symbolic center of Brown v. Board of Education, the transformational 1954 Supreme Court decision that bore her father's name and helped dismantle racial segregation in the United States."
"Brown v. Board was a historic marker in the Civil Rights movement, likely the most high-profile case brought by Thurgood Marshall and the lawyers of the NAACP Legal Defense and Education Fund in their decade-plus campaign to chip away at the doctrine of 'separate but equal.'"
"When asked about her role in the historic case, she told NPR it was her father who deserved the credit but added, 'I am very proud that this happened to me and my family and I think it has helped minorities everywhere.'"
"Linda Brown is now being honored both by those who recognize the legacy of Brown v. Board of Education as incomplete, and those who very much want to limit it to its original scope of de jure (as opposed to de facto) segregation. That's inevitable, and arguably even a good thing, though you have to figure she would have wanted present and future parents and children to be so secure in their rights they'd no longer have to keep fighting the same battle she began."
"Topeka Mayor Michelle De La Isla, who is also the diversity and inclusion representative at Westar Energy, called Linda Brown a role model for empowerment who made the city 'a landmark of freedom.'… 'This is a huge loss to our community,' De La Isla said. 'We will continue to champion civil rights. When you look at the diversity of our community, I think we're already honoring her legacy.'"
"Her walk to the all-black Monroe School in the early 1950s sparked a lawsuit the changed history… 'If not for Brown there wouldn't be the talks that we have about gender equality, there wouldn't be the talks about being ADA accessible,' said chief of interpretation, education and cultural resources at the Brown v. Board of Education Historic Site, Enimini Ekong… 'When you see how inclusive we're becoming as a society, all of that was really the snowball effect that occurred in 1954 and went forth.'"
Get stories like these delivered straight to your inbox. Sign up for The 74 Newsletter