Activists Schedule Election-Day School Walkouts to Drive Votes as Polls Indicate 'Unusually High Levels' of Youth Civic Engagement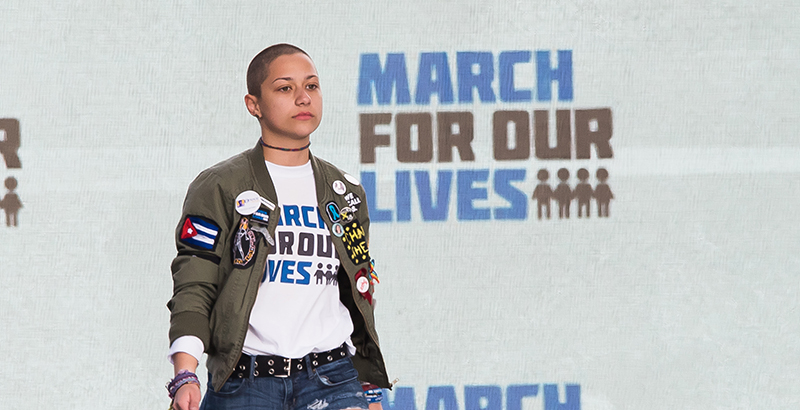 Reminiscent of walkouts that unfolded on campuses this year after the mass school shooting in Parkland, Florida, students from across the country plan to march out of their classrooms on Tuesday.
This time, students from high schools and colleges from across the country plan to march to the polls to vote.
Following February's shooting, student victims became activists and, with Tuesday's midterm elections approaching, they've made youth voter turnout a centerpiece of their campaign. Youth voter turnout has long lagged, especially non-presidential elections.
Though the Election Day walkout will likely be far smaller in scale than the post-Parkland protests, a coalition of progressive student groups is leading a last-ditch get-out-the-vote effort to encourage youth turnout. An interactive map highlights the schools where students plan to walk out of their classes and head off to the polls to vote. With this walkout, organizers say, the tone will be different.
"This time we're not just walking away from something, we are walking to something," Lane Murdock, a Connecticut high school student and National School Walkout founder, said in a news release. "All our voices together at the polls will make an impact like we've never seen."
If several national polls hold true, Murdock may be right.
In a pre-election survey created by the nonprofit Center for Information and Research on Civic Learning and Engagement (CIRCLE), 34 percent of respondents 18 to 24 years old said they are "extremely likely" to vote on Tuesday. A similar percentage of the youngest voters, those 18 to 21 years old who were unable to vote in 2016, said they plan to turn out on Election Day — a significant shift, since their turnout rates are historically lower.
For all the young folks out there ur future will depend on this election ? the youth movement cannot be stopped !! Join the walkout . get out there n vote ✊? #WalkoutToVote @FutureCoalition https://t.co/8girL7SNOF pic.twitter.com/h6s31LHMNa

— Snoop Dogg (@SnoopDogg) October 31, 2018
The CIRCLE poll was conducted in September and surveyed a nationally representative sample of 2,087 people. The margin of error was +/- 2.1 percentage points.
CIRCLE noted the midterms may see historic youth political participation since the percentage of youth who say they plan to vote is "unusually high," coming close to engagement seen during the 2016 presidential election. Historically, voter turnout lags during midterm elections. In a CIRCLE poll ahead of the 2016 election, 40 percent of youth 18 to 24 years old said they were extremely likely to vote, compared with the 46 percent of young people 18 to 29 who actually showed up to vote on Election Day. By contrast, just 20 percent of those 18 to 29 showed up to cast their ballot during the most recent midterm elections, in 2014.
School violence appears to be a driving force for young people this election cycle. Among those actively engaged with the post-Parkland movement for gun control, 50 percent say they're extremely likely to vote — a 16 percentage point margin over the general population in the CIRCLE poll. But the issue is polarizing. Though they make up a smaller share of respondents, youth who oppose the post-Parkland push for gun control are also more likely to vote, with 43 percent saying they're extremely likely to show up to the polls on Tuesday.
With attention turned toward crucial congressional races, young adults CIRCLE surveyed overwhelmingly skew left, with 45 percent reporting they plan to vote for Democrats, compared with 26 percent who plan to pick Republican congressional candidates.
A separate poll, conducted by the Education Week Research Center, found 40 percent of voters 18 and 19 years old indicating that the Feb. 14 shooting in Parkland influences their political engagement. That poll surveyed a nationally representative sample of 1,339 young adults who have never voted in a general election. Among respondents, 15 percent pointed to school safety or gun violence as the most important social problem facing the country — ahead of all other issues, including health care and terrorism.
It appears that the Parkland shooting, as well as the mass school shooting in Santa Fe, Texas, may have an effect on turnout beyond the youngest voters. In September, a Pew Research Center poll found that gun policy is a top concern for both Democrats and Republicans. Among registered voters, 71 percent of voters who favor Republican candidates and 69 percent who favor Democratic candidates say gun policy is "very important" to their vote this year.
Following a national bus tour this summer to encourage youth voter registration, Parkland students held one final press conference before the election on Monday outside the Florida capitol in Tallahassee.
"Gun violence is on the ballot," Parkland survivor Emma González said. "Our lives are in the hands of the people that we elect."
Are you tired of hearing how young people don't show up to the polls? This Tuesday at 10am, that could change in a huge way??Check out @FutureCoalition's plan for a nationwide walkout on Tuesday! #StayTuned #WalkoutToVote @NBCNews pic.twitter.com/K9AI8p4KRQ

— Gadi Schwartz (@GadiNBC) November 4, 2018
Get stories like these delivered straight to your inbox. Sign up for The 74 Newsletter