A Second Pandemic Thanksgiving: Schools Revive Holiday Traditions As COVID Leaves its Mark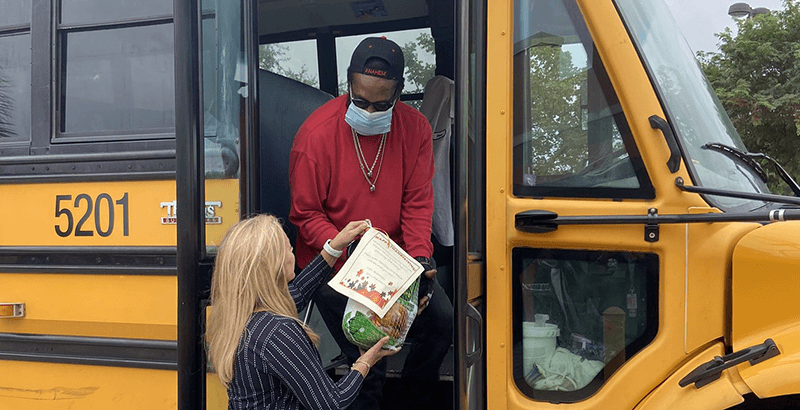 Get stories like these delivered straight to your inbox. Sign up for The 74 Newsletter
Schools across the country have revived holiday traditions after a challenging year, but the pandemic has left its mark on the celebrations.
Food drives were back in a big way, with schools reporting record donations. With the pandemic pushing up food prices, classes took up lessons in budget friendly Thanksgiving feasts and spending money locally. The annual Thanksgiving high school football game returned. Schools celebrated staff with food giveaways to recognize work above and beyond over the last 20 months.
It wasn't all good news, but even difficult circumstances were couched as celebrations: Staff shortages and burnout meant more than 20 districts extended Thanksgiving break, giving students and staff the entire week off.
From record-breaking food drives to practical lessons and more, here's how schools are "giving thanks" in 2021:
A middle school in Pittsburgh has held Thanksgiving food drives for 20 years, but this year they collected more food than ever — a record 12,000 pounds for families in need. "Last year was a little bit of a setback with COVID and this year we wanted to come back real strong," science teacher Kevin Gennaula told CBS Pittsburgh.
First graders from Valley View Elementary School in McHenry, Illinois, proudly posed with items they brought in for their school's food drive. "We have so much to be thankful for this Thanksgiving season!!" teacher Dana Clingingsmith tweeted.
In St. Louis, Missouri, students welcomed back a beloved tradition that was cancelled last year because of the pandemic. Excitement for Webster Groves and Kirkwood high schools' annual Thanksgiving Day football game was at an "all time high."
In Washington state, East Rowan High School students took a close look at grocery prices pushed up because of the pandemic and practiced budgeting meals in Ashley Edmonds' class.
Students also got a "real life" lesson in Mrs. Jones' math class at Pleasant Valley Primary School in Vancouver, Washington, calculating online costs for budget-friendly Thanksgiving provisions.
Rather than buying store made pumpkin pies, high school students in Fruitport, Michigan, learned "valuable lifelong skills" and prepared homemade meals:
The pandemic inspired many to spend their money locally and shop at small businesses. In Pawtucket, Rhode Island, high school students partnered with a local food hub for an "eat local Thanksgiving challenge" preparing 7,500 made-from-scratch meals.
Masks and gloves, spotted at this California school's outdoor turkey day celebration, were still an important part of in-person festivities.
In the spirit of being thankful for all school staff do to keep campuses a safe space for students, Clear Spring high school students in League City, Texas, put together 16 Thanksgiving Baskets for their custodians. "We are so thankful for all they do for our school and all the help they give us!," they tweeted.
In Florida, school bus drivers, cafeteria and custodial staff also received turkeys for their dedication to Jupiter high school.
A school in El Paso, Texas, recognized this school year has been nothing short of a challenge and gifted faculty a full Thanksgiving meal, complete with turkeys. Principal Jon Flores thanked them for their "relentless work this school year," and for "their commitment to our kids."
Before leaving for Thanksgiving break, school officials at Harlan High School in San Antonio, Texas, took a moment to thank a student named Joel for volunteering his time during lunch to help pick up trash in the cafeteria.
But in between posts of in-person celebrations were a steady stream of school closure announcements. Districts facing staff shortages and increasing COVID cases extended Thanksgiving break, focussing on the additional time off as an expression of staff appreciation.
"While this is something that has not been done before, we felt that there's never been a more appropriate time to show our appreciation and recognition of efforts made each and every day across our district." said Brevard Public School board chair Misty Belford in a recorded announcement.
Get stories like these delivered straight to your inbox. Sign up for The 74 Newsletter