A Richard Carranza Reading List: 13 Articles From Houston & San Francisco That Illustrate Past Challenges Faced by NYC's New Schools Chancellor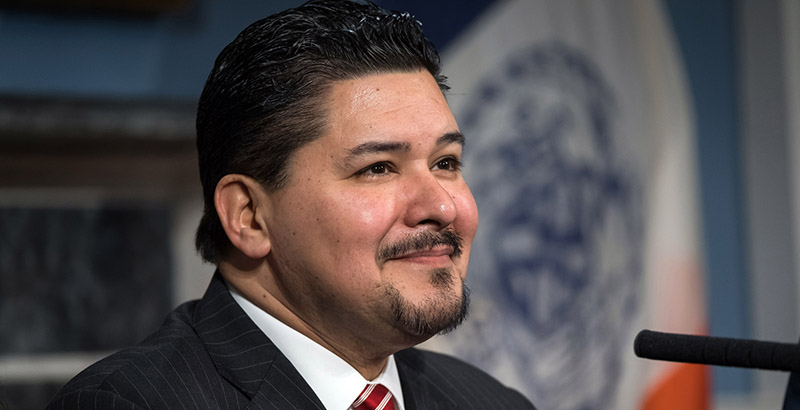 America's largest school district has a new leader.
New York City Mayor Bill de Blasio announced Monday that Houston Superintendent Richard Carranza will succeed Chancellor Carmen Fariña, taking charge of the district that serves 1.1 million public school students.
Pointing to Carranza's 18-month tenure in Texas, as well as his previous four years leading schools in San Francisco, de Blasio said his newest appointee has a demonstrated track record of working to close the achievement gap — a top priority of the mayor's "Equity and Excellence" agenda.
Scanning back through the archives, from his first day in San Francisco through Monday's announcement, here are 13 links that give a better understanding of the challenges Carranza has faced, and the mark he's left on previous districts.
The 74's Carranza reading list — presented here in reverse chronological order:
WELCOME TO NYC
March 2018 — Equity and Excellence: De Blasio lauded Carranza's track record on equity, support of immigrant students (Read more)
March 2018 — A Proud Educator: 'First and foremost, what you see is what you get. I'm a teacher.' (Read more)
CHALLENGES IN HOUSTON
February 2018 — State of the Schools: Carranza's second annual address was delivered amid controversy, as parents balked at reinventing the Houston Independent School District's magnet and school choice programs and the plans to dramatically change 10 struggling campuses to avoid closure. (Read more)
January 2018 — School Turnarounds: In a bid to pre-empt state intervention in Houston and improve academic performance, the district proposed two options for each of 15 low-performing schools: allow an outside organization to take control of hiring and curriculum, or close and immediately reopen with entirely new staff and programming before the 2018–19 academic year. (Read more)
January 2018 — Persistent Problems Over Special Education: Even as Carranza applauded the U.S. Department of Education for providing guidance to the Texas Education Agency on how to better serve disabled students, the Houston Chronicle reported that the number of Houston students identified as disabled has remained relatively low. (Read more)
September 2017 — Learning After Harvey: Carranza received credit for his response to the hurricane and for guiding schools to reopen. As reported at the time, about 80 of 280 schools, roughly 30 percent, were not prepared to start the school year until a week or two after other campuses. On the verge of reopening, teachers and school officials were wondering how many students would actually return to the classroom on day one — and if those who did show up would be ready to learn. (Read more)
June 2017 — Teaching LGBT History: As questions about transgender and gay rights roiled the Texas Legislature, Carranza proposed adding LGBTQ studies to Houston's U.S. history curriculum. He said including LGBTQ and ethnic studies in the curriculum would show students a broader picture of America's past. (Read more)
February 2017 — Funding Woes: During his first annual speech as Houston superintendent, Carranza vowed to fight for more school funding on behalf of the city's public schools. The new superintendent declared that fixing Texas's "broken and outdated school finance system" was the most important issue facing the city's 287 public schools. (Read more)
STEERING SAN FRANCISCO
July 2016 — Surprise Change of Heart: Prior to leaving San Francisco in July 2016, Carranza had been a sought-after superintendent nationally. Just seven months prior, in January, he was among the finalists for the job in Los Angeles before withdrawing from the selection process. At the time, he said there was still work to do in San Francisco, including overseeing changes to the student assignment process. But Carranza apparently had a change of heart when Houston called. (Read more)
July 2016 — Standing by Principals in Teacher Hiring: Back in 2016, San Francisco elementary school principals facing dire vacancies in the lead-up to the new school year actively hired Teach for America recruits despite the school board's vocal opposition to the organization. As tensions escalated, Carranza made it clear that he stood with his school leaders, confirming in a written statement that principals can hire "whomever they believe is the best candidate for their schools," as long as they have been cleared to teach by the district. (Read more)
May 2016 — Big Graduation Gains: High school graduation rates hit a record high across California, with the biggest gains made by students most at risk of dropping out, according to statewide figures released in 2016. (The increases followed a six-year trend of improvements in graduation rates, going back well before the state's Exit Exam was put on hold.) In announcing Carranza's hiring in New York, the city's Department of Education noted that "he raised graduation rates for African-American students by 13.9 percentage points, and for Hispanic students by 15.4 percentage points, significantly faster than the overall growth rates in California as a whole." (Read more)
April 2016 — Rallying Around Immigrant Youth: San Francisco's mayor dedicated $1.8 million to continue providing legal services for San Francisco youth who are in the country without proper documentation. At the time, Carranza said the San Francisco Unified School District has seen a 400 percent increase in students lacking documentation since 2011. Almost 400 of the district's students had fled unstable countries. (Read more)
February 2015 — Bilingual, Bicultural Education: Even as many districts across California did away with their bilingual offerings in the wake of a 1998 state ballot measure that put severe restrictions on bilingual education, Carranza remained a champion of bilingual and bicultural education, building up a robust offering of language-learning pathways and empowering English learners to choose between an English immersion program and various multilingual pathways that promote biliteracy. (Read more)
Get stories like these delivered straight to your inbox. Sign up for The 74 Newsletter