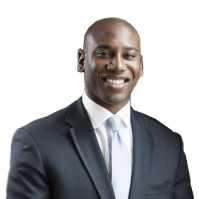 Stephen Cockrell has more than a decade of experience working to improve educational outcomes for our nation's most disadvantaged students — as a senior leader at KIPP, a civil rights and education attorney, a grantmaker, and a mentor to young black men and women.
Most recently, Stephen served as the Director of External Impact for the KIPP Foundation, where he led and managed KIPP's efforts to deepen its impact on public education by building partnerships and executing an ambitious strategy to share KIPP's tools, learnings and approaches across schools and institutions impacting 5 million students. As part of his work, Stephen launched the Foundation's Alumni Accelerator which aims to put 1,000 KIPP alumni in positions of leadership and influence nationally by 2040.
Prior to KIPP, Stephen served as Education Director for Alabama's Woodlawn Foundation, helping Birmingham City Schools build a cradle-to-career education model, including launching an early learning center, problem-based learning magnet schools, and an early college high school.
Earlier in his career, Stephen practiced civil rights, employment, and education law, and served as Operations Counsel for the Partnership for Los Angeles Schools, an education initiative founded by Mayor Antonio Villaraigosa to transform some of LAUSD's lowest performing schools.
Stephen received his bachelor's degree from Yale College and his law degree from Columbia University. He grew up in Birmingham, Alabama where his own K-12 educational experiences changed the course of his life.
Submit a Letter to the Editor